A History of Excellence
Directors of Bands Past and Present
John Hersey Bands have a history of music excellence beginning with director Mr. Don Caneva in 1968. The John Hersey Band program has received countless awards and accolades throughout a colorful history, including performances, under Mr. Caneva's direction, at the MidWest International Band and Orchestra Clinic, the Mid-East Convention, the Rose Bowl Parade and the Orange Bowl Parade. Under Mr. Casagrande's direction, the John Hersey Symphonic Band has been accepted to perform at the Illinois Superstate Concert Band Festival every year since 2001, including the achievement of "Honor Band" in 2008 and 2012 and they have also performed at the 2004 and 2007 National Concert Band Festival. In 2007-2008, the Hersey band program received international acclaim in their performance at the Midwest International Band and Orchestra Clinic and they received the Sudler Flag of Honor given to bands of "particular national excellence" by the John Philip Sousa Foundation. The John Hersey Instrumental Association, in conjunction with Quinlan and Fabish Music Company and Music For All/Bands of America, are proud sponsors of the Chicagoland Invitational Concert Band Festival begun in 2000. This non-competitive festival hosts outstanding music educators representing many areas of the United States who evaluate the finest bands in the state of Illinois.
Spencer Hile
Director of Bands: 2021-Present
[email protected]
Spencer Hile joined the Hersey band program in 2021. Previously he was the band director at McHenry High School in McHenry, Illinois where he taught two jazz bands, three concert bands, percussion ensemble, and music theory. Under his direction, the McHenry Symphonic Band performed at the University of Illinois Superstate Concert Band Festival, Illinois Music Educators Conference, and was one of sixteen high school bands from across the country selected to perform on the featured stage at the 2020 National Concert Band Festival.
Mr. Hile's interest in music began when he was required to join band for his freshman year at Highland Park High School by his high school band director, Dr. Jim Hile. After the kicking and screaming subsided he discovered a deep appreciation for the most important instrument… Euphonium. In 2016, he graduated Summa Cum Laude from the University of Illinois Urbana-Champaign with a degree in Instrumental Music Education.
Mr. Hile currently lives in Oakwood Hills with his fiancee Liv and loyal puppy Cooper. Outside of teaching and music, he is training to run his fourth marathon, obsessing over Apple products, and questioning why he ever became a Chicago Bears fan.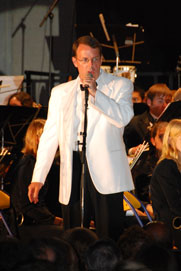 Scott Casagrande
Director of Bands 1999-2021
[email protected]
Scott J. Casagrande was Director of Bands at John Hersey High School in Arlington Heights, IL and retired in June, 2021 after completing 33 years of teaching in Illinois Public Schools.  He taught high school, middle school and elementary students in suburban, urban and rural settings over the course of his teaching career.
For more information about Mr. Casagrande please go to his website:
Tom Beckwith
Assistant Director of Bands 2007-2019
Mr. Beckwith served as Director of Bands at Warren Township High School in Gurnee, Illinois from 1977 until his retirement in 2007. He received his Bachelor's degree from MacMurray College, his Master's from the University of Illinois and has done post-graduate work at the University of Illinois and VanderCook College of Music. Under his direction, Warren Bands have performed at the Midwest International Band and Orchestra Clinic, the National Concert Band Festival, the International Association of Jazz Educators Conference, the Monterey Jazz Festival, University of Illinois Superstate Honor Band, and the Illinois Music Educators Association State Conference.
Mr. Beckwith has served as conductor for the Illinois All-State Jazz Band, several All-District Bands, University of Illinois Summer Youth Concert Band, Birch Creek Music Academy, and is in demand throughout the Midwest as a clinician and adjudicator.
Honorary memberships include Phi Beta Mu, ASBDA, Who's Who In American Education, and nomination for the prestigious "Golden Apple" award for excellence in education. Other honors include selection as the Warren Teacher of the Month, his seventh National Band Association Citation for Excellence, and selection as Chicagoland Outstanding Music Educator. In 2003, Mr. Beckwith was one of two high school directors in Illinois selected by the Illinois Music Educators Association to present the symposium "Meet the Masters" at the Illinois All State Music Conference for all the high school band directors in the State of Illinois.
In 2004 he appeared on ABC 7 News honoring his teaching excellence. Mr. Beckwith was nominated for membership in the prestigious American Bandmasters Association in 2005. He has been selected for "Who's Who In Education" on four separate occasions. He has served as an Illinois Music Educators Association District and State Chairperson, the Advisory Board of the Illinois Unit of the International Association of Jazz Educators, the Illinois High School Association Music Executive Board. Professional memberships include the Music Educators National Conference, International Association of Jazz Educators and the Illinois Music Educators Association.
After retiring from WTHS, Tom worked part time at John Hersey High School in Arlington Heights and Northern Illinois University Music Education Dept. until he passed away on February 14th, 2019. While Tom took great pride in the fact that so many of his students became musicians and music teachers, he was just as proud of those who learned to love music for life, no matter their occupation. His teaching lives on through them all and through the memories of his students who still recite his infectious "Beckwith-isms" to their own students or families.
Dallas Niermeyer
Director of Bands 1986-1999
Andy Brandenburg
Director of Bands 1984-1986
Mike Hetzel
Assistant Director of Bands 1981-1982
Ray Zubler
Director of Bands 1981-1984, Assistant Director 1978-1980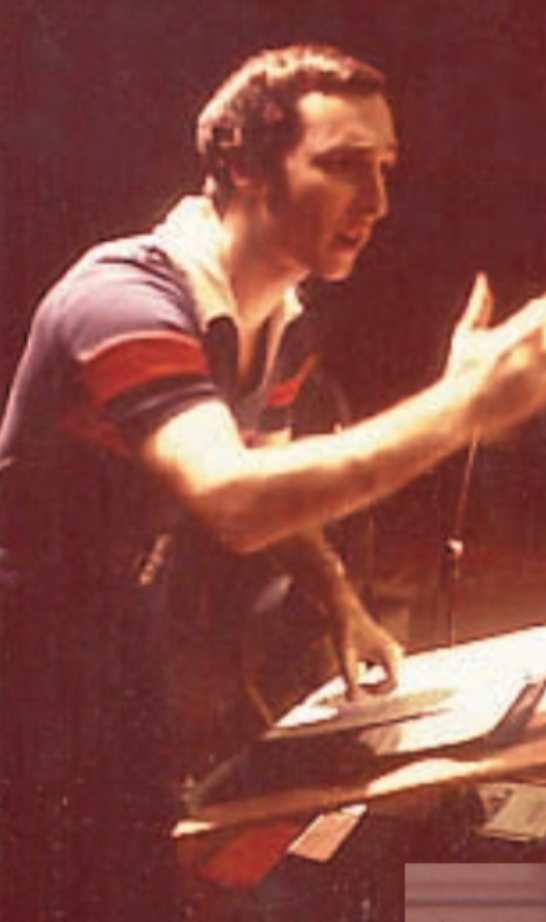 Jim Rich
Director of Bands 1978-1981, Assistant Director 1973-1978
The musical career of Jim Rich began at a much earlier age than most. Born into a family entertaining in vaudeville, Jim was already performing on stage with his parents,
playing the marimba at the age of 7. He also began studying the full range of percussion instruments at this time with Bob Tillis at DePaul University. At age 9, Jim often
accompanied Mr. Tillis in live performances at Chicago's NBC studios. When he was 12 years old, he was simultaneously taking private lessons with marimba virtuoso, Jose
Bethencourt, and proclaimed fastest drummer in the world, Barrett Deems. When he was 14, his family and he were the opening act in a 6-month State Department tour in
Africa, featuring drum soloist, Cozy Cole, famous for his recordings of "Topsy" and "Caravan". Finally, Jim recounts that he was fortunate to have a few drum lessons with
Louis Bellson.
In 1967, Jim began his college education at Northwestern University, majoring in Music Education with a minor in Percussion. He received his bachelor's degree in 1971, and
continued his education, receiving his Master of Music in 1972. During this entire time, he was performing with his parents, playing marimba, drums, and tap dancing in their
family musical act. This career included performances with some of the biggest stars, performing on television, USO and State Department tours, and national and
international conventions.
While still at Northwestern, Jim did his student teaching at Hersey High School and eventually began teaching percussion to its band students. He enjoyed working with the
band students so much, that when offered a full-time position as Assistant Director in 1973 he changed careers to explore his new passion. Jim remained at Hersey for 8
years, 5 years as Assistant Director and 3 years as Director.
Although he left to pursue another career opportunity, he continues his enjoyment ofmusic by playing drums and piano almost every day. (September 18, 2022)
Bob Rogers
Assistant Director of Bands 1970-1973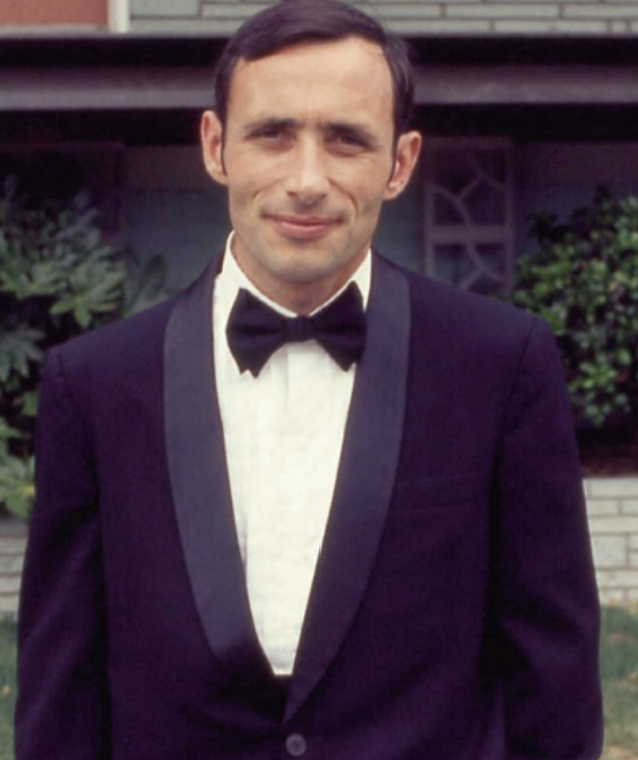 Don Caneva
Director of Bands 1968-1978
Born in Lockport, IL in 1936, Don Caneva earned a bachelor's degree in music education from DePaul University and a master's degree in music education from the
University of Hawaii. A third-generation band director, he conducted bands for 54 years beginning at age 17.
After graduating from the University of Hawaii, Don was hired as the first band director of John Hersey High School in 1968. Over the next 10 years, the Hersey bands
performed with some of the "giants" in music, including Louis Bellson, Carmen Dragon, Frederick Fennell, Arthur Fiedler (1971, 1972), Rafael Mendez (1969, 1970), and "Doc"
Severinsen. On the concert stage, the Symphonic Winds performed at the Midwest Band and Orchestra Clinic, the Midwest Music Conference, The American Bandmasters
Association, and three times at the Northwest Band Clinic.
The "Geevum band," as it was called by some, was one of the most successful high school bands in the country in that decade. Geevum is a word that Don brought to the
band, He told them it meant "give'em hell" in Hawaiian slang, and it immediately became their battle cry. The high-stepping marching band, led by its military-style
color guard, was one of the most impressive marching units in parades and on the field. The excellence of the band was rewarded beginning in June of 1969, bringing home an
unprecedented 100+ first place awards. The band was dubbed the "Pride of Illinois" in striving for excellence.
The musicians performed at prestigious events such as the Cotton and Orange Bowl Parades, the Tournament of Roses Parade, the College All-Star Game, and were
named Grand Champion at the International High School Music Festival in Winnipeg, Canada (1974) placing first in field, concert, parade.
The band received national recognition as one of the most outstanding instrumental music programs in the United States by the John Philip Sousa Foundation. Hersey Band's excellence was also recognized through placement on the Roll of Honor of Historic High School Concert Bands between 1960-1980 by the John Philip Sousa Foundation.
In 1976, at age 39, Don was one of the youngest band directors to be elected to membership in the prestigious American Bandmasters Association (ABA). He served on the ABA's
International Relations and Enrichment Committees, and as chairman of the ABA Foundation. Additionally, Don served as the ABA Chairman of the Sudler Committee until his death. In 1978, Don and his family moved to San Diego. He organized the World of Music Festivals which, for more than 25 years, held competitions for junior and senior high school bands, orchestras, and choirs throughout the United States.
Don served as conductor of the Coastal Communities Concert Band in Encinitas, CA, for more than 20 years. Under his direction, it grew from 30 members to more than 80, and won prestigious awards such as the Sudler Silver Scroll Award from the John Philip Sousa Foundation (1998) and the Gold Prize at the International Alpine Music Festival in Switzerland (2001). In 2007, the Emmy Award winning documentary film "Community Band – Our Lives in Music" was produced in association with the Coastal Communities Concert Band. The film highlights the band and its members with behind-the scenes stories of passion, dedication, commitment, and hope.
A dedication, presented in 2003, can be found upon entering the main foyer of the school which recognizes the composer of the Hersey Fight Song, Don Caneva, and the lyrics writer and first chair flute player, Kathy Samaras.
Don Caneva passed away on August 29, 2008, at the age of 71.